I've been working on this for a few days, and finally finished it this morning.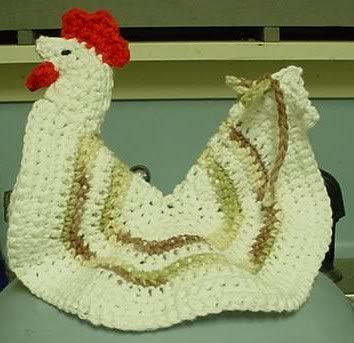 The pattern is available
here
. I made a few changes: pattern calls for speed cro sheen (size 3 thread?.. size 5?) but I used sugar n cream (white) and peaches n creme (earth variegated, red, black). The pattern also calls for the comb and wattles to be made out of felt and to line the potholder with felt. I'm not going to line it, as I doubt it will be seriously used, and besides, most of my pot lids are insulated anyways. I also freehanded the cockscomb and wattle, and instead of beads for the eyes, I stitched them on with black.
I'm very happy with the results even though he turned out larger than the original because of the substitution of materials. Oh.. I also couldnt find my fiberfill to stuff the head with.. so I grabbed some white yarn that was lying around and used it instead.
Now, I wonder if I could improvise this into a Turkey potholder too. I probably could.. just make the neck on the head a little longer, but not sure how to do the tailfeathers.