I'm often asked where to find the patterns for both of these, so I thought I'd blog a little about where I found these patterns.
Baby's Circle Afghan
(picture shows a partially completed one)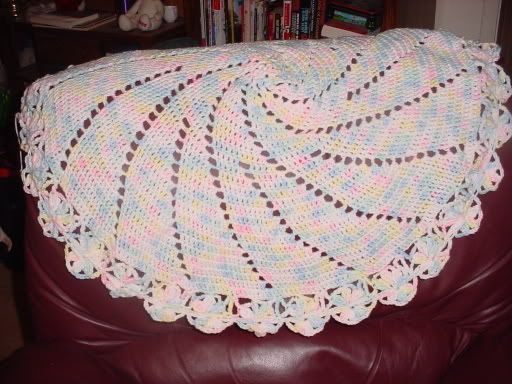 click to view larger
The pattern is from a collection called Quick n Easy Crocheting that came in the mail and the patterns were filed in small yellow notebooks. When complete, there was a set of 3 notebooks.
I think this subscription service was available in the 80's.
I have found the pattern for sale on eBay.. sometimes the individual pattern for a few dollars, and sometimes the whole books. I managed to get all 3 binders (with patterns ::grin::) for about 20.00, but I was lucky. I've seen individual binders go for 2x as much.
If the pattern is followed exactly, it comes out very very large..even using baby or sport yarn. I usually just make the pattern until I'm satisfied with the diameter and then do the edging.
Some of the terms to search eBay with would be "Baby's Circle Afghan" or "Quick n Easy Crochet*" (be sure to use the quotes, asterisk and check the box on ebay to search inside the auction..not just the auction title)
If you're looking at buying one of the notebooks instead of a single pattern, I would contact the seller and make sure the pattern you want is in the books. And as always with eBay two things to remember.
1) don't buy from someone whose rating is lower than normal body temperature.
2) Sniping is your friend.
I don't have the inclination to go into sniping in detail right now, but if you're curious go into the community area of eBay => discussion boards => bidding => Sniper's Revival is a good place to start learning.
I know some people think that Sniping is not a "good thing", but as long as eBay permits it, I don't have a problem with it. I personally think it's good for sellers and buyers. If you have an issue with Sniping, complain to eBay, not to me.
btw: The Answer center in Ebay (also found in the community area) is a great place to spend some time reading & learning to avoid problems.
Giant Pineapple Pattern
: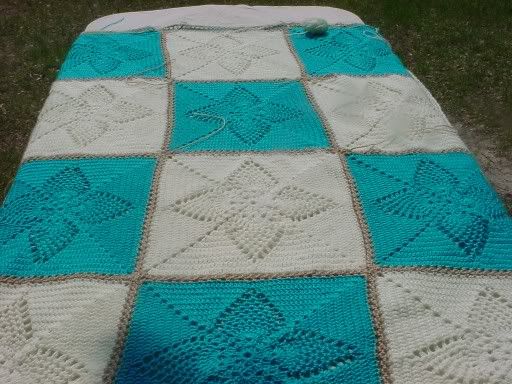 squares shown made into afghan.
The pattern is hard to find.. because the page it was on is no longer active. Thank Goodness for the internet archive!!
It's at this link:
http://tinyurl.com/253kn
If you prefer the long version:
http://web.archive.org/web/199911032...Pineapple.html
I used an H hook for the off-white squares and a G hook for all the rest. I've listed the amount of yarn I used for the afghan I made, you may need a little more or a little less depending on how you crochet.
You will need about 3 to 4 ounces of Worsted Weight for each square. I used 6 skeins of Dawn Sayelle (by Caron) for the off-white squares. The skeins were 3.5 ounces and most of them had a small amt left after making a square.
Since I couldn't get anymore Dawn Sayelle.. I figured another Caron yarn would be fairly safe to use. What is easily available to me is Simply Soft... so that's what I used for the Turquoise squares and also the Bone for joining.
It took 3 6oz skeins of the Turquoise (they call it Blue Mint) and 1 6oz skein of the Bone.
Since I was going to use Priscilla Hewitt's flat braid method to join the squares, I stopped at Round 14 with 50 dc on each side of the square.
Each square was bordered and joined with the Bone color.
Flat braid method:
http://members.aol.com/_ht_a/lffunt/flatbraid.htm
to join the squares.
And I'm bordering it with a variation of Kim Guzman's (aka CrochetKim) friendship afghan border.
http://www.crochetkim.com/patterns/border.html
I didn't want to make the puff stitches, so I just did Half doubles all the way around. The border was just finished tonight and I will try to get final pics up soon.
In discussing the flat braid joining method on the CrochetPartners mailing list yesterday, Wilma Keith, one of the other members, gave me this tip.
To make the flat braid easier to work, I usually sc one extra row around with the corner being sc, hdc, sc. That gives the corner a much sharper edge and easier to see. All flat braid starts at the hdc.
Now all I need is another Afghan to join to try out her tip. Hmmm maybe my next Scripture Afghan. :)