I'm working on an afghan made up mainly out of my own head...but the square pattern is from Jan Eaton's 200 squares book. It's the "Willow" Square. (that reminds me.. I haven't seen the Movie Willow in awhile.. might be time to dig it out again. Dang.. I just had a huge brain freeze on the actor in that movie.. the same one who played Jim Morrison in the Doors... sheesh)
Back to the afghan.
Colors are all by Caron Simply Soft.. Country Peach, Copper Kettle, Chocolate, OffWhite and (perhaps) Berry Blue.
Here's some pics of what I have so far.... still haven't figured out the perfect layout. And I go back and forth between liking the Peach & Copper or the Peach & Chocolate squares the best.
(please excuse the messy bed.. and the ends not woven in yet.. since I might be taking some of these back apart.. I didn't want to do that yet.)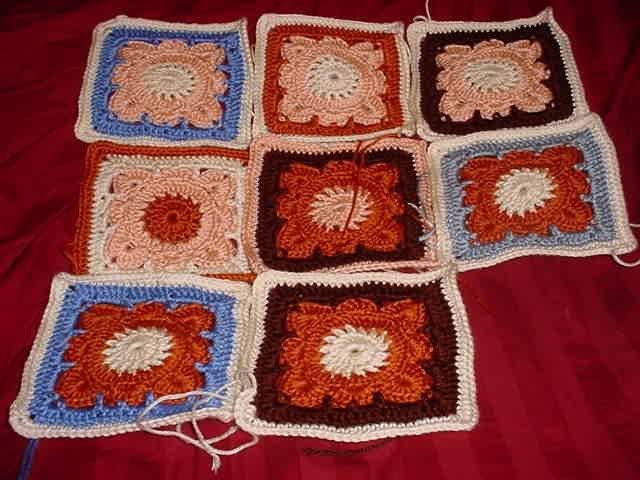 The square in different color combos (one of them has a country blue instead of berry blue)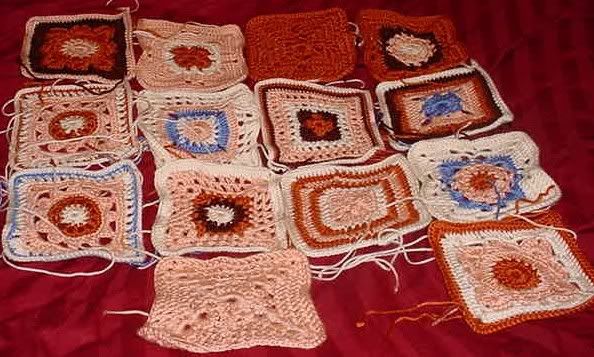 some other squares in the same colors...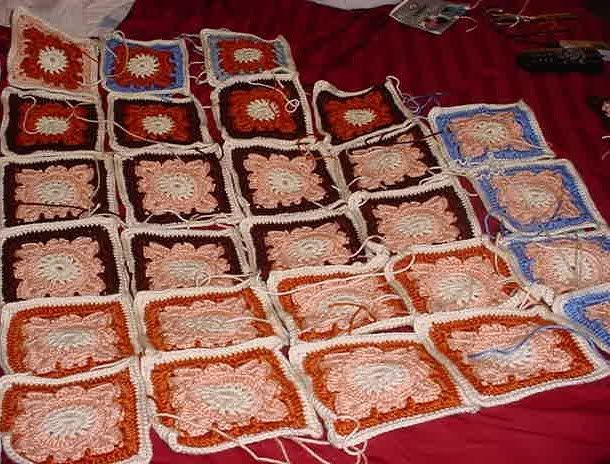 Almost all the squares so far
Any opinions on what I should do? I'm waning to emphasize the peach color. DD says she likes the Peach & copper best.. and that I could mainly do it and scatter randomly (very randomly) the others.. then do the peach and chocolate as a border around the outside.
I dunno...I don't have enough made yet to lay that out and see.
I'm making this for myself.. as a cuddly for in the hospital (if I finish it in time) and afterwards. Peach is the color for endometrial cancer. They're still not sure if I have cancer or not.. but I'm trying to get myself mentally psyched.. just in case.