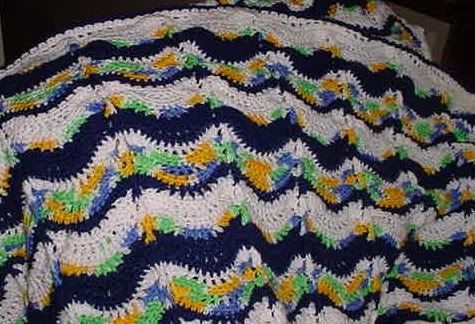 Supposed to be a baby blanket, turned out to be twin sized ..
when they say to use baby yarn, they MEAN it.. lol.

I used RedHeartKids in White and Camper (the variegated..think it's discontinued)
and Caron's Perfect Match in MidnightNavy.

I will probably donate it to Project Linus as this was a whim and stash buster.
I had finished a project September 8th while in a hotel room and was at a loss on what to do next. I found the pattern online, remembered I had this variegated that I had bought without having any plans for it.. the price was so good I couldn't pass it up.

Fortunately, I had never carried it in the house from my van. Sometimes being lazy pays off.

I thought had enough (4 skeins of each of the red heart and 2 skeins of the Caron)..
and I almost did, only had to order a skein of the PerfectMatch.

Pattern is here.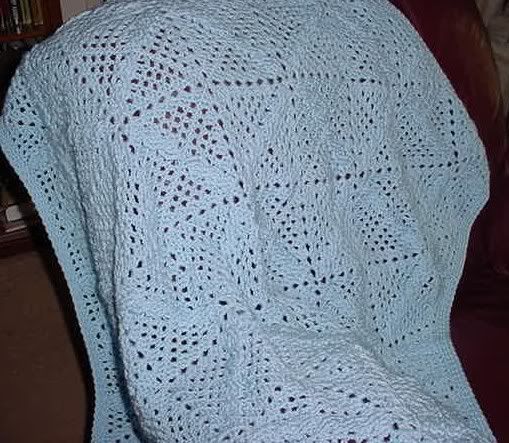 I keep calling this pattern "Lacey Cables" but that is wrong,
Coats&Clark calls it Crochet Cables Afghan.

It's supposed to be an adult size afghan, but I made it as a baby 'ghan, by doing fewer squares.

For the blue one I used HobbyLobby's "I Love This Yarn" in soft blue.

It's for one of the ladies who works for my husband.. she just had a grandson.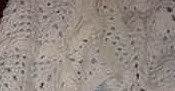 And here it is in RedHeart SoftWhite. Pattern is here.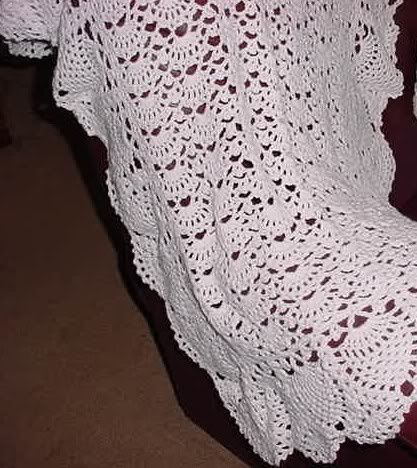 This is not a free pattern, it's one I had finished long ago and could never decide who to give it to.

The yarn is some super soft baby stuff I bought from SmileysYarns.com (not cheap as you have to order 40.00 worth at a time) and the pattern is one designed by Terry Kimbrough.

I can't remember the pattern name.

I now know who this is meant for.. it will be mailed this week to my new great niece in Florida. Just perfect for them as they don't really need a heavy blanket in that climate.

-------------------------------------------------------------------------------------

I still need to post the other half of the report on my surgery, but just haven't had the desire to do so.
I will report that I am one month out, and still can't believe I let this happen. I feel mutilated, empty, hollow. I KNOW this is not logical, but it is the way I feel.
I needed the surgery. I was very very lucky in that the cancer was so early that I will probably not need any more treatment other than fairly frequent followups for a few years. I read stories about other women who need radiation and/or chemotherapy and am so grateful that I don't have to go that route (at least not yet).. but still.. there is this overwhelming sense of loss.
I mean.. how to reconcile that from a very early age we are defined as different and special because we have the ability to give birth.. and then to have those organs surgically torn out of our bodies? I know menopause was on it's way and I wouldn't be able to create life after that anyways.. but then again, you read about women having babies in their 60's thanks to fertility treatments.
Part of my troubles with acceptance is that the cancer took the choice out of my hands.. well, not completely.. I could've chosen to not have the surgery and gotten much sicker.. but is that really a choice?
Very few people want to listen to me ramble my way through my self-therapy. Any wonder I spend so much time on
Hyster-sisters
&
EyesOnThePrize
?