Just finished another baby blanket. I'm trying to use up some of the hoards of yarn I have here (it's beyond a stash.. it's taking over my life!!)
This one was made with Caron SS brights. Pattern name is "Young At Heart" and is a pattern that is no longer available, originally designed for Caron's Dazzleaire yarn. Both pics clickable to see larger.
EDIT: I had the name of the pattern WRONG. It's really called "Young Hearts" and the pattern is found
here
.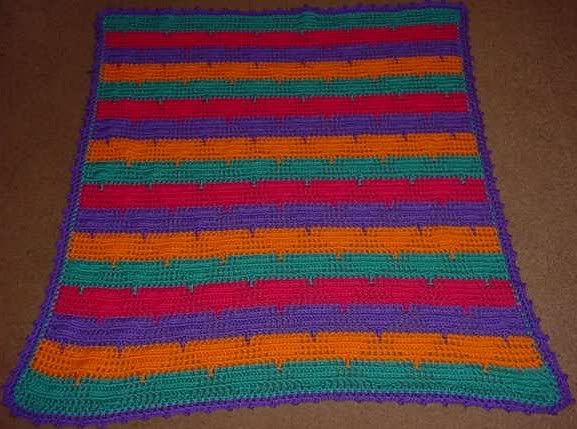 Now off to make something else.
I have a little more than 12 oz of a yarn that Hobby Lobby used to carry called "All Seasons Yarn" by TMA. The color name is called Cloverpatch. It's a pale bright green with tiny tiny flecks of yellow. I mean the yellow is so vague you have to really look hard to see it. The color reminds me of Caron's Limelight.. but exetremely faded. I'm wondering if I put it and some white and the Caron Limelight together if it would make a decent ripple or wavy ghan. Just a thought.