The first pic is to show the colors of the yarn, the second is to show the whole bag (lousy flourescent lighting) hanging to dry. I don't usually hang bags, but I want the handles on this to stretch some.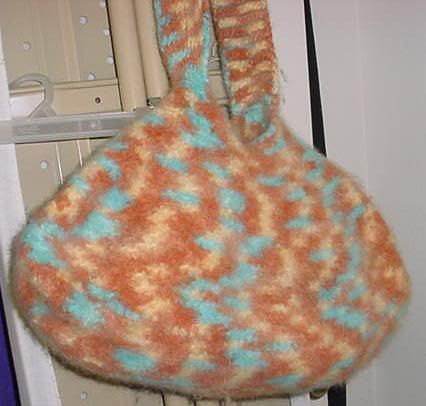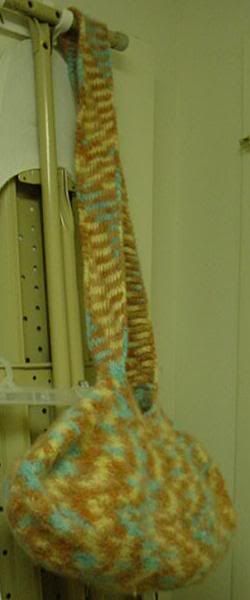 This is a variation of
I felt the earth move
bag . I didn't follow her pattern exactly, I did the decrease rounds where they looked right to me. I also crocheted in FLO (or maybe it was BLO.. i don't recall.. i was consistent tho whichever stitch I used). I think the yarn I used was much bulkier than hers, so I'm glad I made the changes. Otherwise the bag would've been humongous!!
And when it came to the handles.. I didn't feel like flipping the thing back and forth to make the handle, so I dug out my tunisian hooks and did them in the tunisian knit stitch. And devised a way to hook the handle to the other side instead of stitching.
One more thing I did differently was that I did a round of reverse sc all along the edges of the handles and the top of the bag. I like that effect.. think it gives a project a "finished" look.
This is almost all of the Bernat Felt yarn.. I had 13 skeins. Two left which I made a purse organizer out of and it's in the machine right now felting. Pictures soon.