This month I've been trying to clean out ds's bedroom, it was a horrific mess (stepped in a rotten apple core recently when trying to find something in there...AND found an open (and full) coke can next to the laptop we bought him for college.. laptop was taken up and I resolved to clean this room, no matter how bitter the complaints).
We've gotten the floor clean, the dresser repaired (there was a broken drawer guide) and now have started to pull stuff down off the closet shelf.
This was in a giant garbage bag on the top shelf. It's a giant bear nap mat. It's made in two pieces with thick quilt batting inbetween.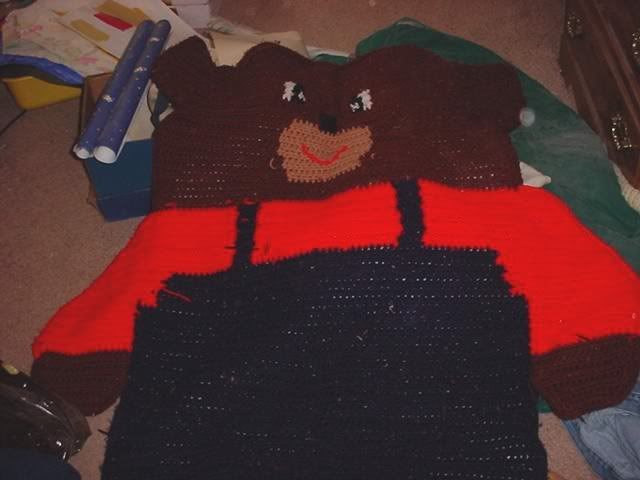 I made this for my daughter when she must've been about 2 (She's 20 now). I remember making the bear playfully "growl" at her while I was working on it..then after I embroidered the smile on it, she told me "Good, now it can't growl at me anymore". Bless her heart.. I had no idea I was scaring her.
It's in pretty rough shape, having been through two kids and washed in the machine.
I still have the pattern book somewhere.. I remember there was also a bunny rabbit.
And here's the wallpaper that my son wants to be rid of: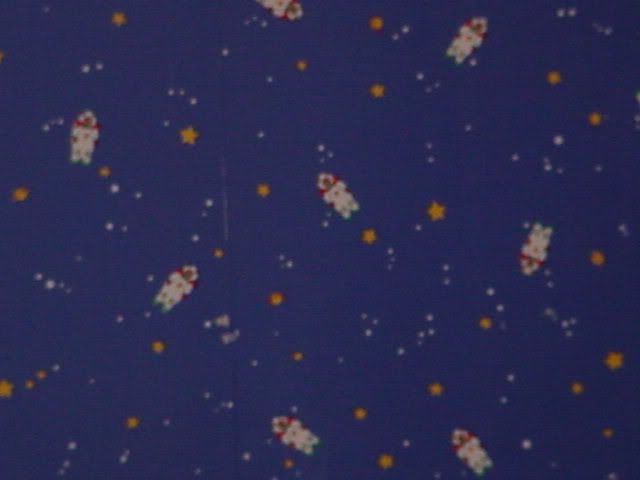 I think at 18, he's outgrown it a bit.
We're going for black baseboards and black trim around the doors. The door to the hall, the door to the bathroom and the closet doors will be red. We're going to try to paint over the wallpaper with Dover White (an eggshell color) but if it won't cover, we will paint that one wall red.
There's also astronaut bears border wallpaper around the top of the room. If the dover white won't cover that either, we'll have a red and black stripe around the top.
That's the plan so far anyways...we'll see what happens next.