I got these from the Holiday in July RAOK list on Crochetville.
The sunshine elf from Arizona sent me the above bamboo yarn. It is sooooooooo soft and huggable. I love it. and in one of my favorite colors too. Now I have to find the perfect pattern for it. I'm thinking maybe a scarf?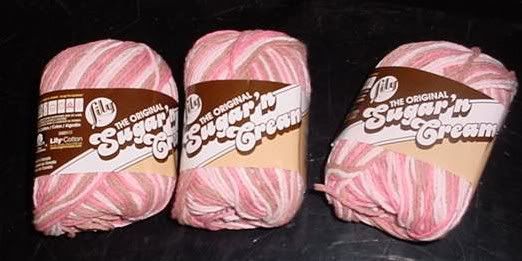 And the above beauties came from an elf in Brooklyn New York. They arrived the same day that we got my biopsy results. Such perfect timing has to be in God's hands.
I have discovered that I love crocheting with cotton. Oh dear.. do I feel another addiction building? probably.
Look at what my OCD has led me to buy now:

These I ordered from the Knitting-Warehouse (yeah I know.. the K word, but they have awesome shipping rates).

And these came from Elmore-Pisgah. Can you believe that those cones (1 lb of lovely cotton each) only cost 5.99!! They're a special run and when they're gone, they're gone.
The blue/tan variegated is called Mountain Sky. I love it.
The other variegated is called Passion. Just yummy.
The only problem is that I can't use the stuff fast enough .. LOL.
Now I only have to decide what to take with me to work on in the hospital (in case of abdominal surgery instead of the lap).