Being raised by Depression era parents, one of their mottos was "make it do, use it up, wear it out".
I'm using it up.
This is from yarn from my stash... Paton's Canadiana in School Bus Yellow, Deep Orange and Orange Salsa (discontinued variegated). Even more economical, all were bought on sale when Hobby Lobby was getting rid of their Canadiana. Too bad they no longer carry it.. I've gotten to love it.. it's a great yarn.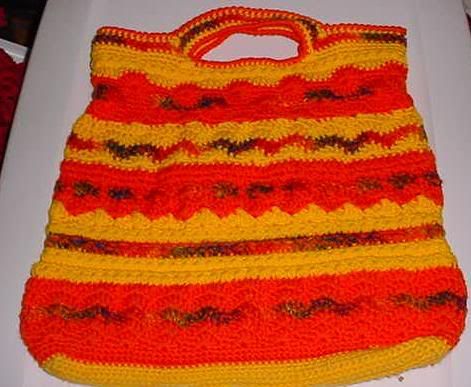 clickable
Stitches used:
Closed Shell (5dc), Wave, Star Stitch (also called Marguerite Stitch), Closed shell (6dc), Somerset Stitch, a stitch that I don't know the name of..kind of a spike stitch.., trinity stitch, forked halfdouble, Closed shell (5dc), Wave stitch, reverse wave, Catherines Wheel, a row to end the catherines wheel .. making an even row, star Stitch, two rows of sc, Odd forked Halfdoubles, a row of sc, then reverse sc around the edge and inside the handles.
Most of these can be found at various places on the web if you're not familiar with them. Others I got out of my Harmony Guides (300 crochet stitches and 220 more crochet stitches) books.
I'm still not quite satisfied with the handles on this one, but decided I'd go ahead and leave this and improvise something different for the next tote. Yes, there's another version of this brewing in my head.
What do ya'll think? Other than the bright colors.. hehehee.. can't miss this thing could ya?
I used about 1 skein of the yellow and orange and 1/2 skein of the variegated. I still have more yellow and orange and some green I bought on ebay.. a little more expensive than what I paid at HL.. but not much. Considering gas prices.. it was probably a huge bargain for me since HL is 40 miles away.