Made with Lily Elite Cotton (Red, White) and Speed Cro-Sheen (black). The Speed Cro-sheen is a lot different in size than the Lily Elite, but since it's mainly used for showing the separation of the colors, it didn't seem to matter much.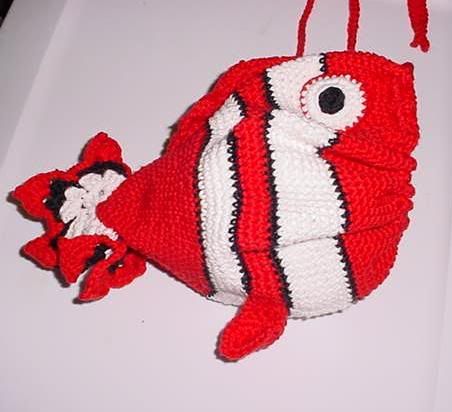 Will be giving it to one of my dhs secretaries who is retiring tonight. Made pic in a huge hurry.. I was on my way out the door to attend her retirement dinner.
It's a good size.. enough for a small wallet, lipstick, cellphone and not much else. I've already started another one (this one was supposed to be a xmas gift.. I think I have time to make another before then) and will get measurements on the next one.
The pattern is one that OldBagLady had posted on the 'ville a long time ago. It's no longer there, don't know why it disappeared. Hers were originally made with worsted weight acrylic yarn and were quite a bit larger.