Doesn't this look like the old "Flower Power" designs that were ubiquitous in the 70's? This design is courtesy of a talented crocheter from Crochetville.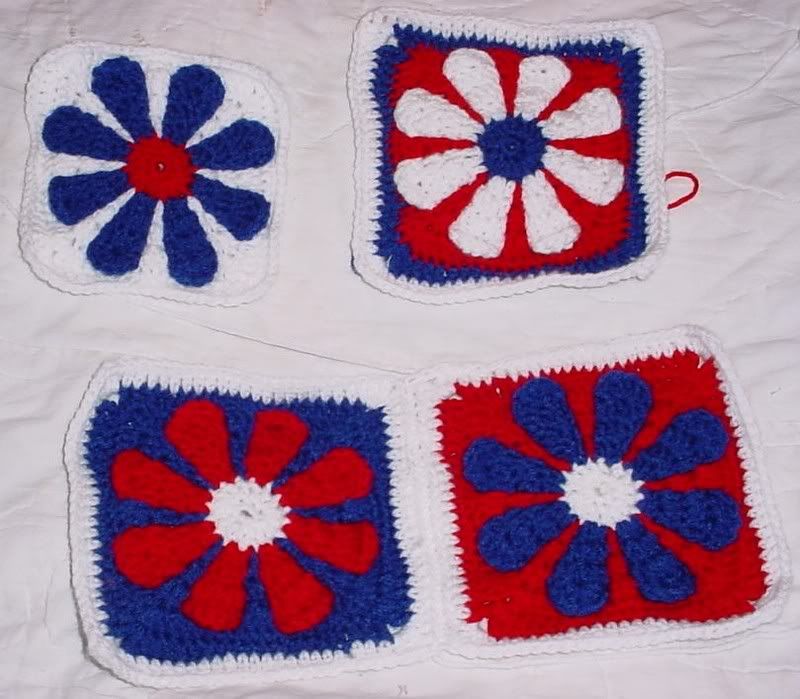 The one on the upper left still lacks one round.

The square pattern is available free.. with one caveat. The designer requests that upon receipt of the pattern that a square is made and sent to her. She is assembling these into an afghan to be donated to various charities. There's lots more information on the designers blog.

These I'm making will eventually go to Project Linus disguised as a blanket. I'm doing them in Red/White/Blue for the PL drive for the Good Grief Camp/Camp LeJeune during Memorial Day weekend put on by the TAPS Organization (Taps stands for Tragedy Assistance Program for Survivors). They will give red, white and blue blankets to the children at the camp to help comfort them.

I 'm using HobbyLobby's "I Love This Yarn" to do the r/w/b.. but I'm going to start doing the centers in various colors (yellow, pink, black, brown, etc.) This will help to break up the colors without ruining the theme.. I hope. If my PL coordinator deems it inappropriate for the taps drive.. well, it can go to a local hospital or shelter.

I rediscovered the audio portion of the wayback machine (or internet archive) while looking for old timey bluegrass for my DS technical theatre class (they're getting ready for UIL competition.. UIL is like district and/or state competitions in other places. Texas does University Interscholastic League.. have to be different .. lol). Anyhow, while searching for Open Source music.. I ran across the audio books on the internet archive. Whoa Nellie!!!

I've downloaded the first 8 or 9 chapters of "Pride and Prejudice" and am listening to them while I type this. I will eventually burn this to CD so I can torture my son during our morning drives to school (he's been dekeyed due to numerous progress reports.. grrrr). I'll have to go and see if there is an audio book version of "The Importance of Being Ernest" which is one of his future assignments in English. (picture me with a wicked grin).

Spring break starts tomorrow too ... good for listening on our day trips too. heheheheheeeee

Found the old song "Wish I were a single girl again" while digging through the open source applachian music last night. This song was also in the movie "Song Catcher"
, and it makes me want to see the movie again
(great movie for the applachian music, the rest requires a little too much "willing suspension of disbelief"....).

Anyhow, the movie has an old granny midwife singing this song, very effective. The lyrics go:


When I was single, went dressed so fine;
Now I am married, go ragged all the time.
Chorus:
I wish I was a single girl again,
O Lord, don't I wish I was a single girl again!
When I was single, my shoes did screak;
Now I am married, my shoes they do leak.
Three little babies crying for bread,
With none to give them, I'd rather be dead.
Wash them and strip them and put them to bed,
Before your husband curses you and wishes them dead.
Wash their little feet and send them to school,
Along comes a drunkard and calls them a fool.
When I was single, I eat biscuit and pie;
Now I am married it's eat corn-bread or die.
When he comes in, it's a curse and a row,
Knocking down the children and pulling out my hair.
Dishes to wash and spring to go to;
When you are married, you've all to do.
Suppers to get, the cows to milk,
Them blame little children is all crying yet.


Sure makes one think twice, huh?