The real stuff is melted, so we must do with the faux.
Got some more crocheted flakes finished.
These are from various sources, nothing that is available online except the first one. I tried using some sparkly thread for it and quite like the effect. It is pretty large.. about 4 or 5 inches. I may try this one again with smaller thread.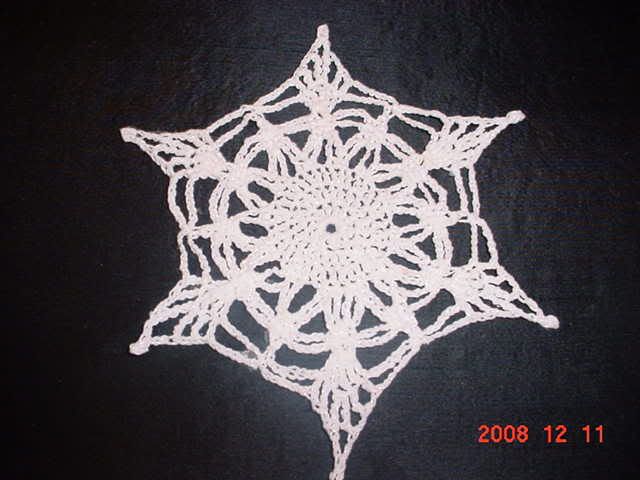 This one is called a Texas Star and you can meet the designer and see her pattern here:

http://www.crochetville.org/forum/showthread.php?t=86827


The remainder of the flakes I right off hand don't recall where I got the patterns. They're not something I made up though. Many times I'll see a 8 point mini doily or the center of a doily that looks "flaky" ::grin:: and will work on adapting it to a 6 pointed creation.

Most of the time it works well. Sometimes I have to frog a lot. Occasionally I have to give up on it and move on to the next. It's all an adventure and quite fun.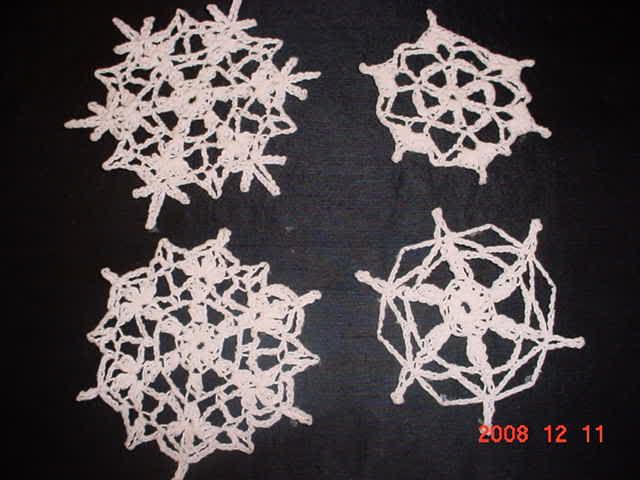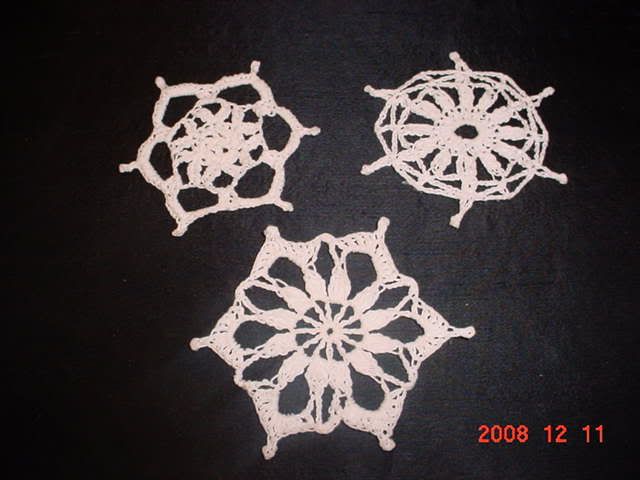 I've discovered that for me, 3ch picots are difficult to pin and then get the pin out after the flake dries. So, I'm adjusting most of my picots up to 4 or 5 chain versions. If the pattern calls for a combo of 3 and 5 chain picots.. then I might make them 5 and 7 chain instead. Depends on how things look when I get a few done.

I'm also not using a pinning or blocking guide. I know I should.. but I don't have a laser printer and I'm worried about the moisture from the "stiffy" I use seeping through the pin holes in the plastic and the ink ruining the flake. I haven't been able to think of a work around for that yet. I'm sure there is one, just my "very little brain" hasn't come up with it.

Therefore, I'm working on the premises of:


the incident of repetition in snowflakes is low. (they used to say that no two snowflakes were ever alike, but I seem to remember that science disproved that a year or two ago)
I shouldn't worry about whether my snowflakes are perfect, because only The Lord God is perfect.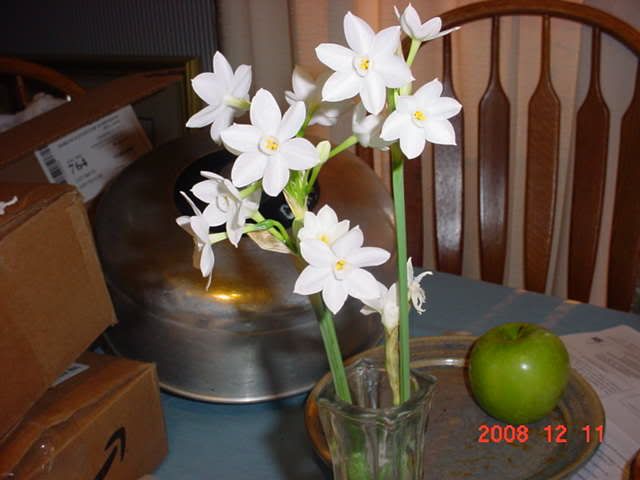 These are some paperwhites or narcissus, a type of daffodills that have been growing in my yard. I picked a few to enjoy inside.. they smell soooo sweet. These are supposed to bloom in the spring, but I get the treat in November. This year they decided to bloom in Dec.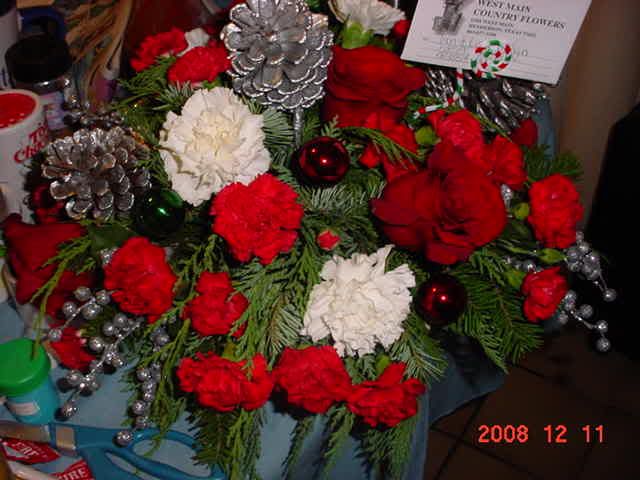 And this beautiful arrangement is from my sis in law. She always sends us the most beautiful flower arrangements for Christmas. I could've taken a better picture, but then I'd have had to clean off my dining table. And that would mean fewer snowflakes.
Ok.. back to my hooks.
P.S. They may have found the remains of Caylee Marie Anthony today. Or might not have. No matter if it's CMA or not.. someone's child's remains were found today in a plastic bag. That is so sad and I feel horrible for all those touched by such tragedy. I pray that whoever the child is.. that they did not suffer very long.