Some of what I've been doing recently. I'll add some descriptions and explanations later. Right now I'm feeling chilly.. lol.. wonder why?
I'd say 99% of these were made from free patterns found somewhere on the web. The other 1% were either made up by me or from a Harmony guide or some other resource. If the pattern is one I can link to (and IF I can remember where I found it.. I'll post it.) One more bit of info, except for one flake and one ornament, all of the below were made with DMC Baroque thread size 10. Not as high a grade as cebelia or opera, but I quite liked it for the snowflakes.
Now on to the snowflake pictures and descriptions.
These first two aren't exactly "authentic" snowflakes as they have 8 points instead of 6 or 12. I was going to frog and redo them, but as I got to looking at them I decided I was being too rigid and these were too pretty.

Whoever I chose to gift with these will surely enjoy them?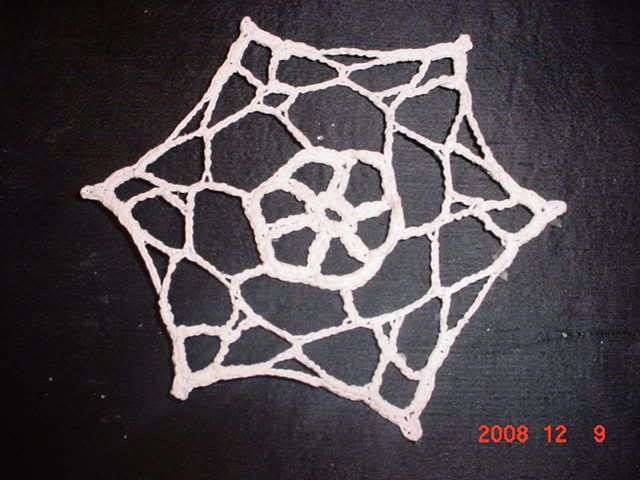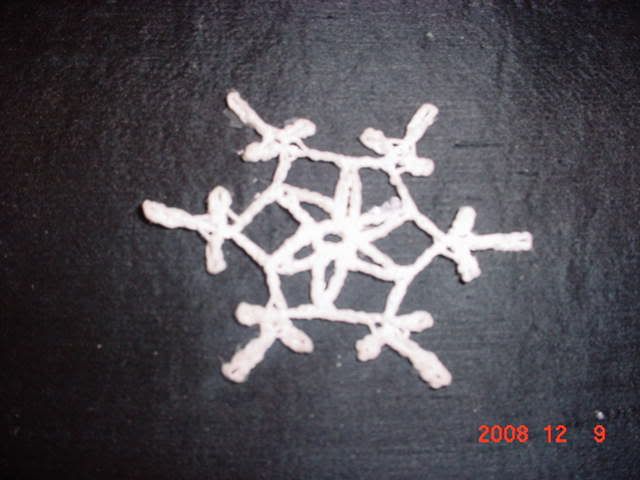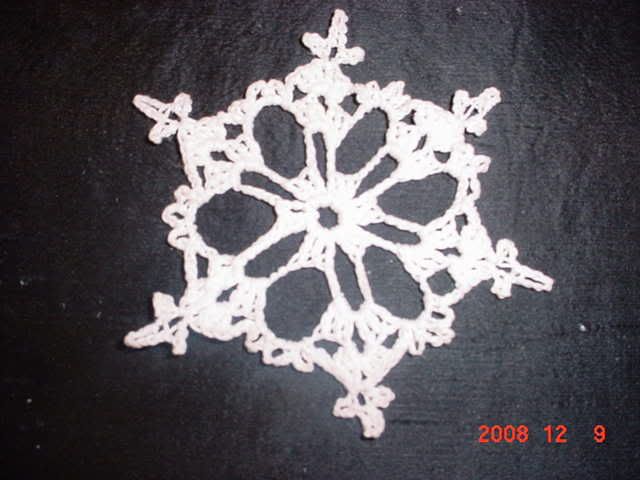 http://www.bhg.com/holidays/christmas/ornaments/make-a-crocheted-snowflake-ornament/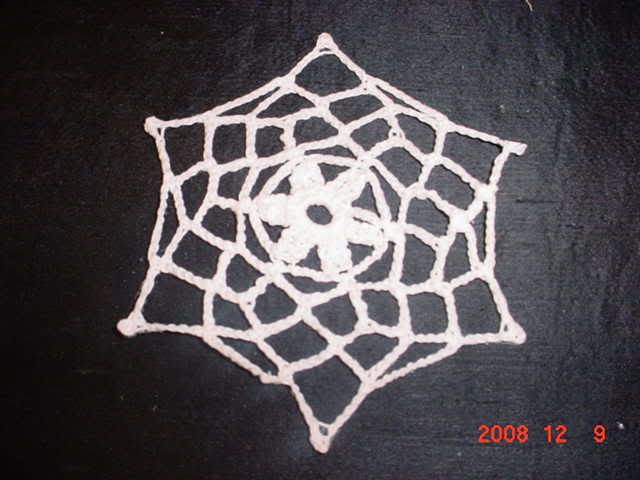 The above I think was the beginning of a doily. I just stopped when the loops got to be 12 in number and then put a picot in every other loop.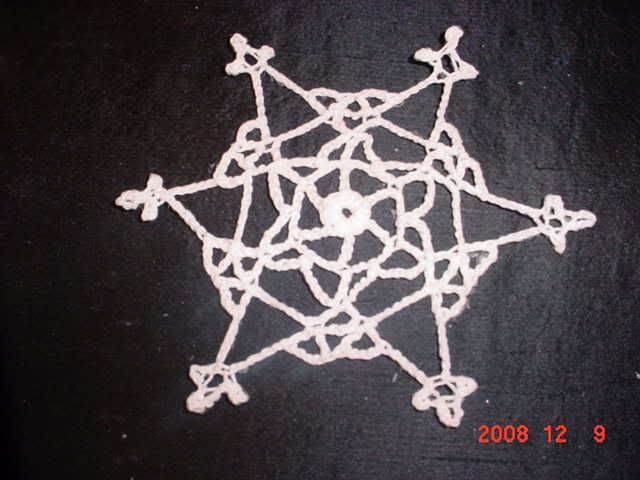 Below:
Experimenting with glitter. I don't think I'll try that again. Don't care for the effect.

#8 at http://www.sarahanns.com/crochetworks/snowflakes.html

#8 got the glitterati treatment because I missed a stitch when making it and didn't realize until I was weaving the ends in. So I thought a little glitter might help it's hurt feelings and perhaps hide the defect. Couldn't hurt now, could it?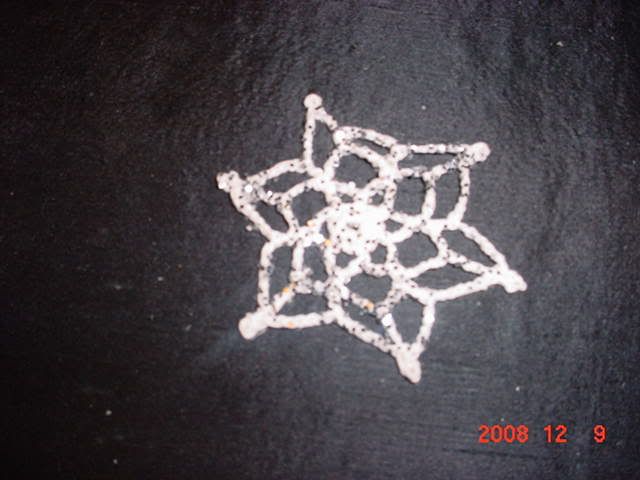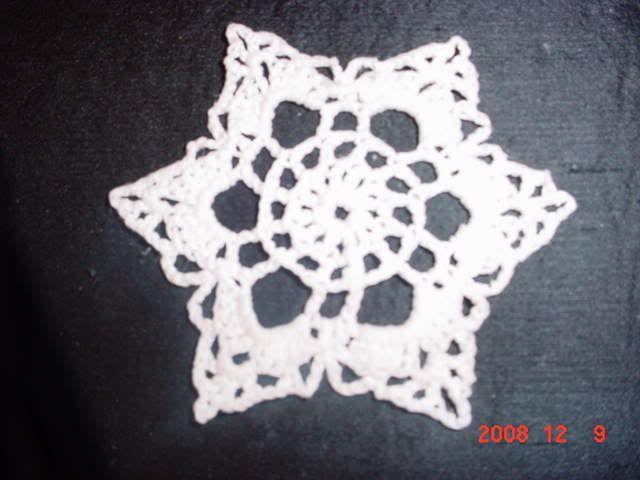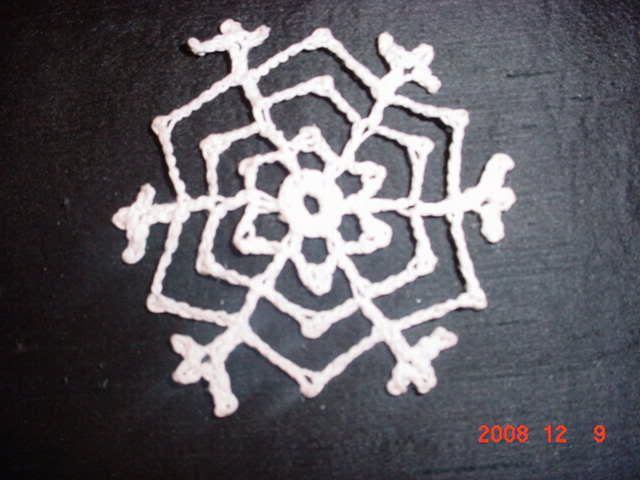 The above simple beauty is #3 at http://www.sarahanns.com/crochetworks/snowflakes.html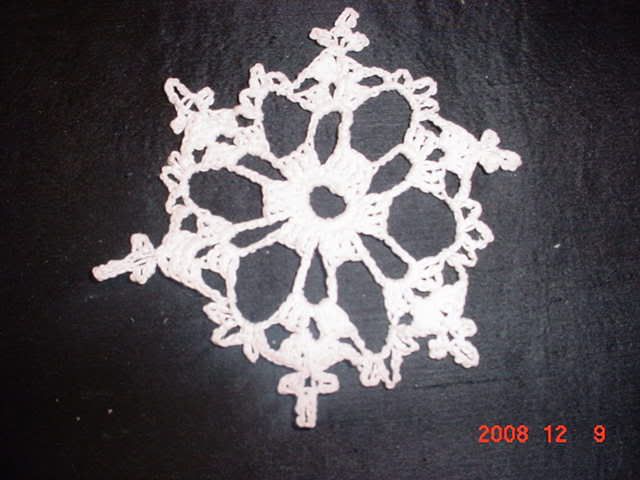 Now that this one is photographed, I see one of the "arms' got a bit twisted. Back to the pinning board with you!!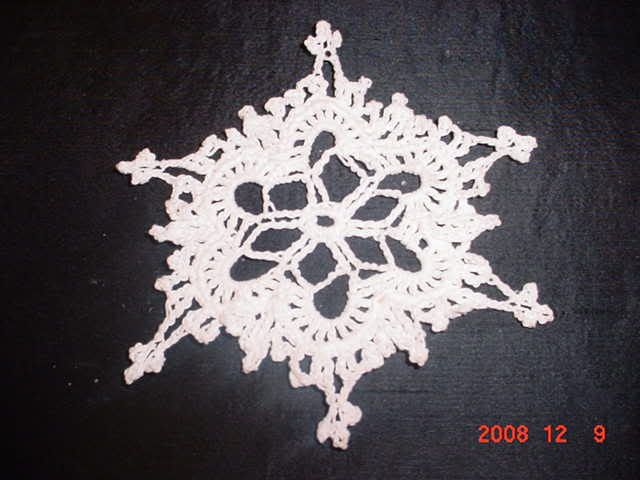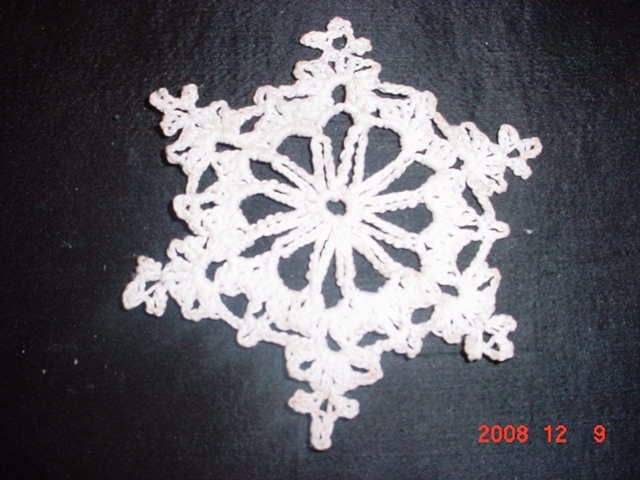 http://www.bhg.com/holidays/christmas/cards/crochet-a-snowflake-gift-topper/


I call the next 4 (below) the Aussie "Gang of Four" Flakes.

The patterns are written in UK or British terms, so where it says DC, the stitch needed is really a SC and so forth. I made the first one not realizing the difference in terminology and had to completely frog it and start over. It was sad and very misshapen.

Also, they are quite large made with size 10 thread. Would've been better to use size 20 or 30, but I haven't gotten brave enough to try that yet. I still think they're pretty, just kinda on the gigantical side. :)

The pillow they're sitting on is probably about 12" square..so you can see how big they turned out. The pattern is here: http://aww.ninemsn.com.au/article.aspx?id=27469





Aussie#1
I really like this flake. I need to get some size 20 thread (maybe I have some in my stash? hope, hope) and try this one again.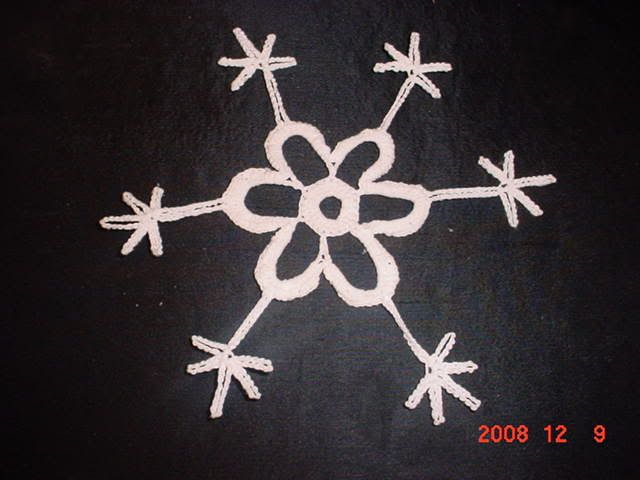 Aussie #2
My second favorite of the gang.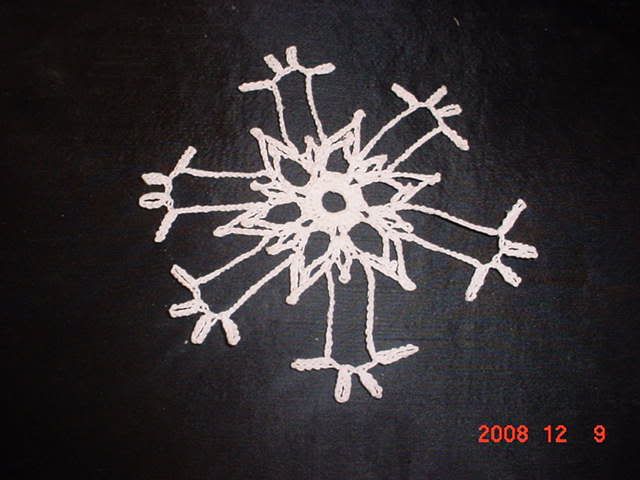 Aussie #3

(taking the gazillion pins out of it made it get a little floppy. It looks more like a fern or a starfish than a snowflake. I also revised the pattern just a bit to make it easier. I joined each picot to it's corresponding opposite as I worked back down the "arm" of the flake instead of leaving them loose. I don't think it changed the look all that much and made it MUCH easier to deal with.)

I plan to restarch this one.. maybe pin it out first and then spray or paint the starch over it?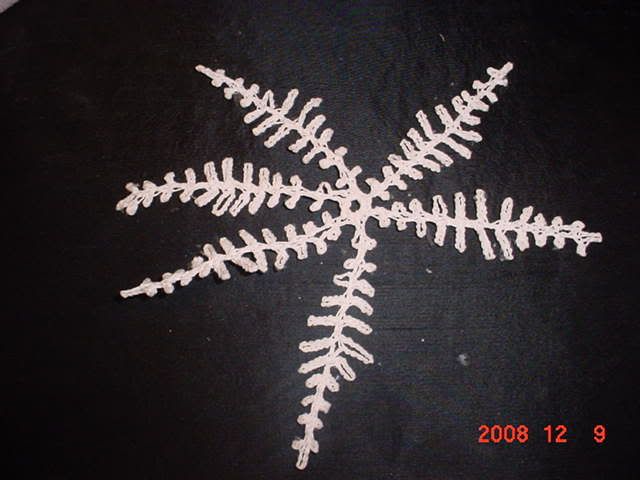 Aussie #4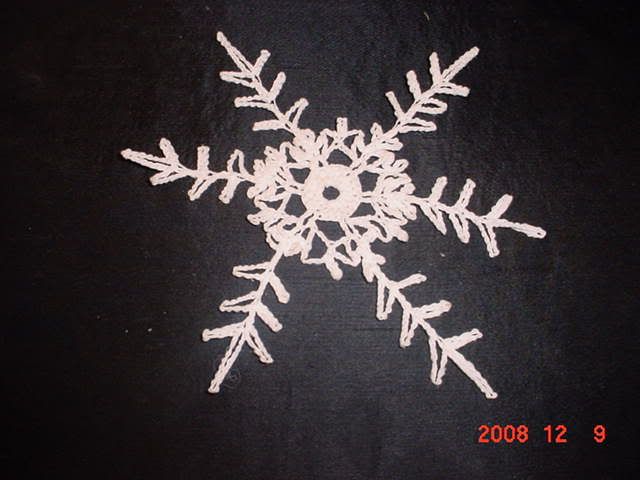 The next one is made from Aunt Lydia's Bamboo thread. Lovely stuff, very soft to handle. Doesn't split UNLESS you have to frog it back more than about twice.. then it can be a problem.

That tendency to split under stress makes me wonder if it would be a good idea to avoid using this thread where it would get a huge amount of use. Something to ponder.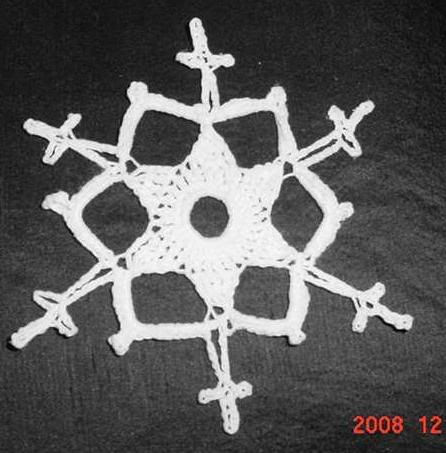 The above is also a pattern I'm working on. I don't think I've seen it elsewhere, but I'm sure I haven't seen every snowflake pattern ever written. When I get it tweaked to my satisfaction, I'll post it.

Some of the above flakes laid out on my dining table after Thanksgiving.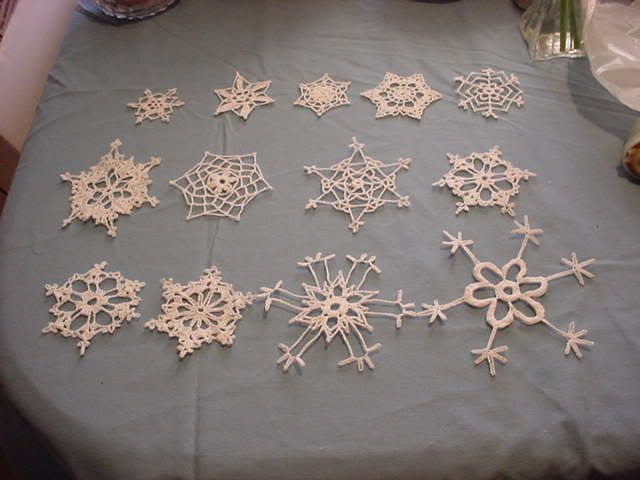 Pinned out on styrofoam board covered with plastic. Using mainly quilting pins. I'm using some old stiffy I found in my craft cabinet. It was left over from making string easter baskets back when my kids were in elementary school. Those kids are now in college and the stiffy is still good. Amazing. One of the bottles that had been partially used and the stiffy had seperated, but it recombined with a little stirring and is working great.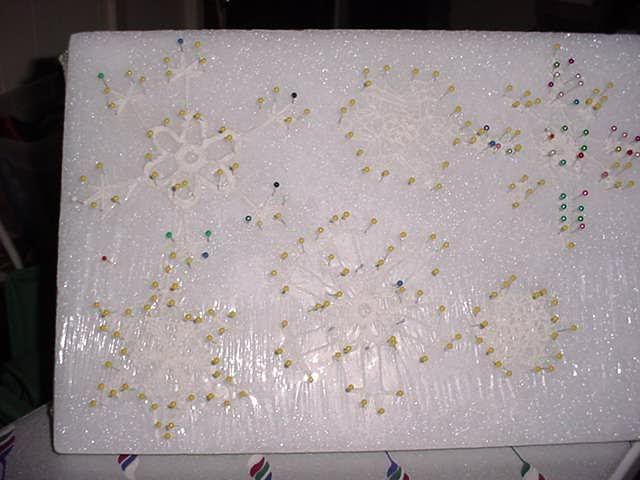 From a booklet titled Victorian Christmas Ornaments. It's supposed to have a ball and tassel hanging from the bottom. Those are made, but I haven't attached them yet.

Crocheted in an unknown ecru thread.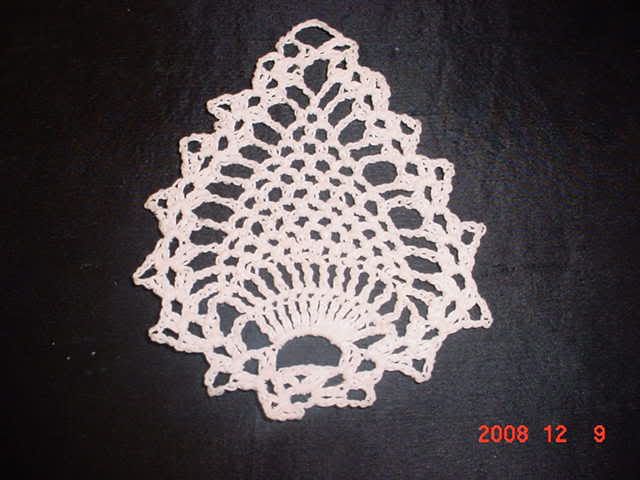 That's all for now. As I said before, I'll give links as I find them again.
I have a few more made with the Bamboo to get photographed and blogged.
Part 2... I'm just gonna tack onto this post cause I've already given the link out and don't want to overwhelm or confuse by giving out another link to another post about another group of snowflakes. whew.
All of these next are made with Aunt Lydia's Bamboo. I've decided to abbreviate it ALB. :)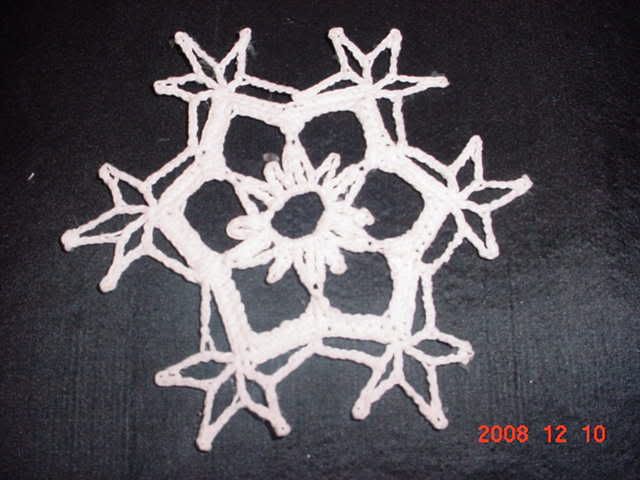 I really like this one. It's inspired by an 8 sided motif I saw the other day . I will write this one up when I get it perfected. I think I'm going to call it Trinity snowflake for the 3 picot clusters.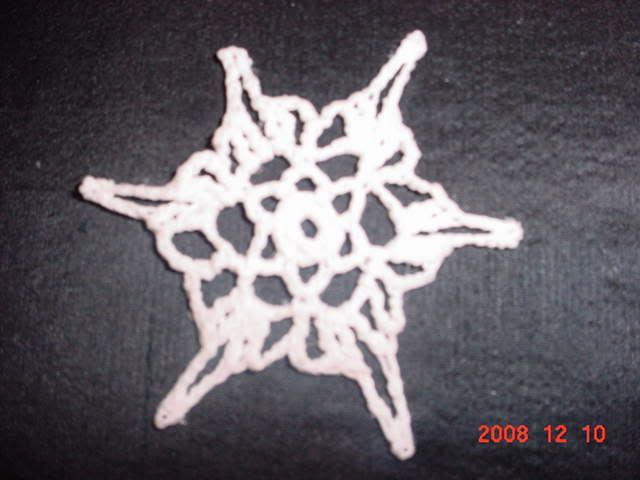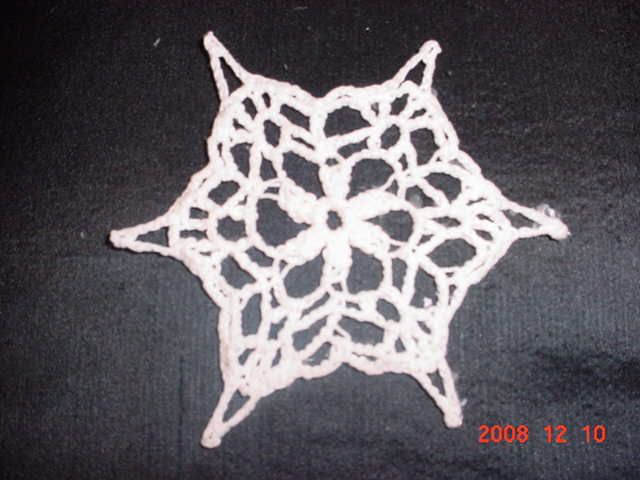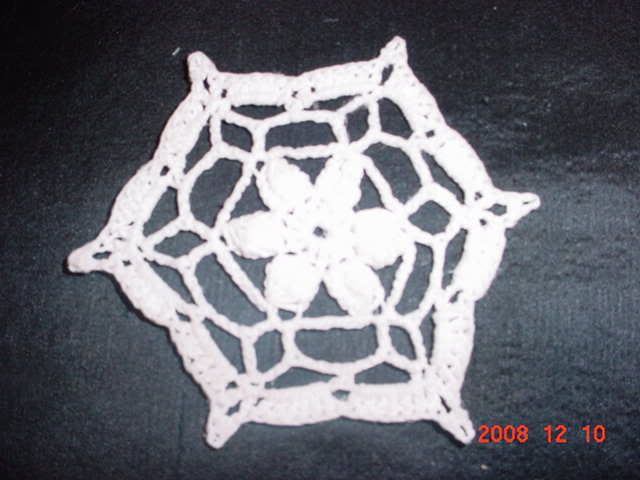 I thought this was adapted from a Harmony Guide motif. WRONG. It's adapted from this pattern at Drops. (Hint: It uses british or UK crochet terms. Adjust for American) http://www.garnstudio.com/lang/en/visoppskrift.php?d_nr=99&d_id=30&lang=en

First time I've ever worked with a drops pattern. It is worded a little differently and maybe a step left out once or twice, but for free, I can't complain. I added the picots as usual.

Now that I've done one Drops pattern, I shall be on the look out for more that have potential for flakiness ::grin::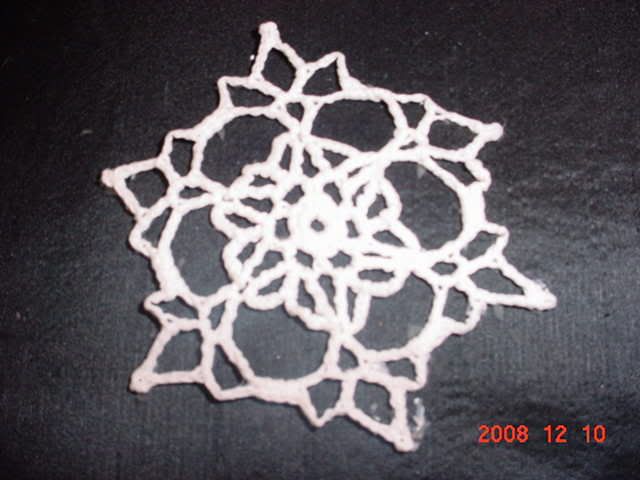 This one looks very familiar. I shall have to go hunt it down.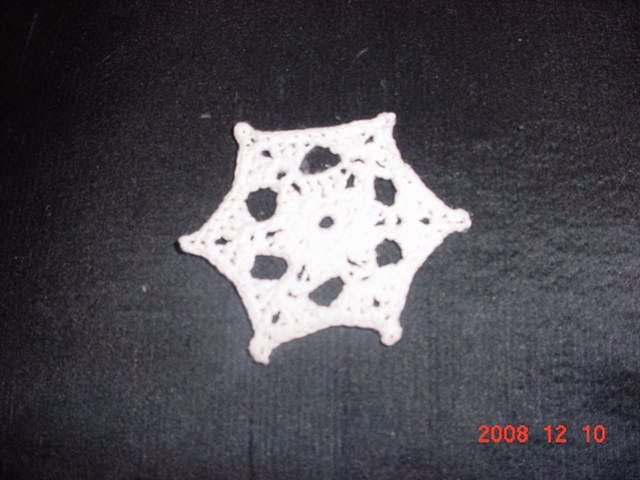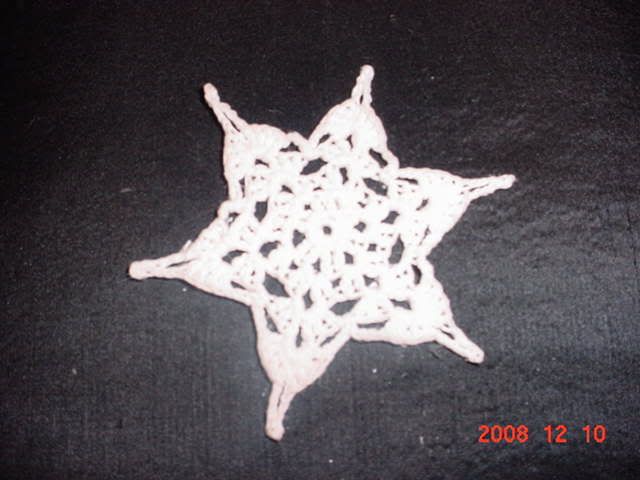 One of these two is the center from the snowflake afghan at www.artoftangle.com. I'm almost positive it's the one on the right. I added the picots to the pattern. I'm kinda disappointed that it turned out so small, but wouldn't be hard to do extra rounds.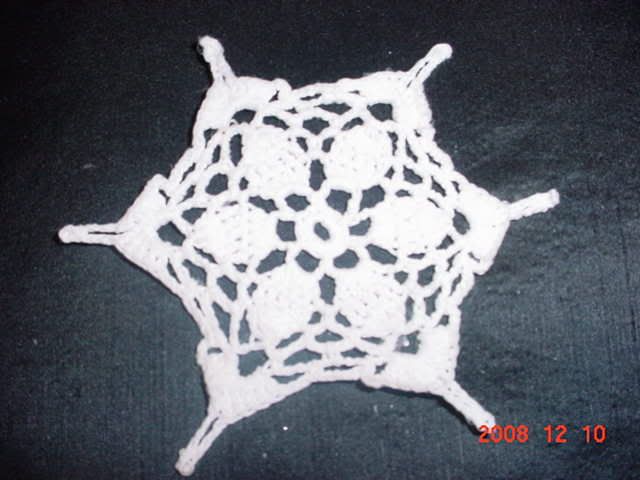 Ice Crystal pattern from Harmony Guide with extended picots added.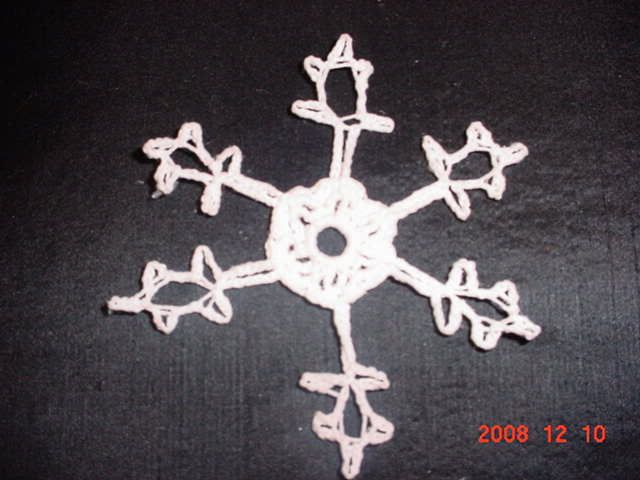 From Coats and Clark website, but adjusted to have only 6 arms instead of 8.
http://www.coatsandclark.com/Crafts/Crochet/Projects/Seasonal/WC1795+Crochet+Lacy+Snowflakes.htm


And last but not least.. a comparison shot.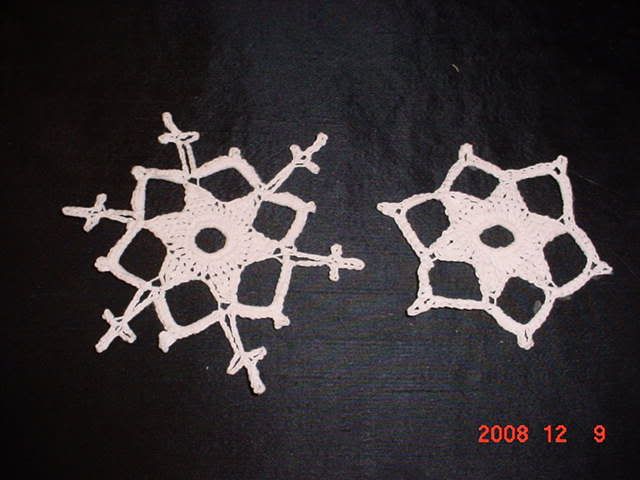 These are basically the same flake, I just added some arms to the one on the left.

What's different about them is the one on the left is made with Bamboo and the one on the right with Baroque. I don't know if ya'll can tell in the photo, but the Bamboo isn't as "bright" a white as the Baroque. In most cases, it wouldn't be a problem, but something to keep in mind if things are going to be right next to each other.

Ok.. I MUST get off the computer so I can have some semblance of a normal life. Talk to ya'll laterz.