so much to say, so much to do.
Last Friday was sooo wonderful. My kids (who were away WORKING at camp woke me up at 7:20 am... "Hi Mom, it's our day off"!
They voluntarily took the dog to the vet to have stitches removed and I gladly did their laundry in return!!
The boy left after lunch to go visit his Not-a-girlfriend(uh huh.. riiiight), and dd and I had some alone time which was wonderful.
It was sad when they had to go back, but they'll be home again Saturday. :) :) :)
I'm supposed to start a FILET CAL over at CALPALs (more about CalPals later), and have finally gotten the pattern I want to use. It's called "Yellow Rose of Texas"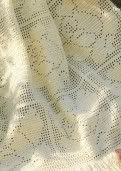 I finally have the pattern (got it on eBay.. love it, saved time and gas $$) now I have to decide on yarn. I'm leaning heavily towards Caron SS in Offwhite.. which is a very creamy french vanilla color. Aunt Mary's yarns is going out of business, so I'm thinking about calling them and see if they have enough millends in that color. hmmmm
I've also been tempted into starting
ANOTHER Cal
for Noreen Crone-Findlay's Butterfly Shawl that's shown in the Summer issue of
Knit.1
magazine. Read about the shawl and it's creation at Noreen's
blog
.
Someone on the 'ville asked how many wips we had. I sat down and counted mine.. at it was a staggering 14 (or 17 if you count the blankies that I still need to weave ends in on). That is depressing. Why do I want to start two more?? I guess there's just something about new beginnings that is irrisistable for me.
I was accepted as an Unknowable Shrone some time back and have not had the time to upload a button or do a bio for the site. I just went and looked and can't find myself on there. Hmmm.. I know I received the email. Maybe I should reply to it??? LOL
Well. time to publish this post and do some other things on the web.. I'm sure I will be back to say more.