It's just my luck. About the time I discover a yarn, the company takes it out of production. Such is the case with Caron and it's Felt-it yarn (actually, I think I'm beginning to notice that Caron is rather quick to discontinue yarns.. or is that only my imagination?)
Here is a little tote that I made with 3 skeins of Caron's felt-it. I'm pretty sure the colorway is called Wildflowers, but mine doesn't have as much cream in it as the
colorcard
at Caron shows.
I had 3skeins and it was barely enough.. but would've been enough if I hadn't experiemented with doing the handles in a different manner and messed up some of the yarn.
I was so short that one of the side seams wasn't stitched securely enough and it came apart during the felting process. I had to stitch it back together while still wet with a totally different wool.. but I don't think it shows very much.
Actually the mend makes it even more unique and one of a kind. ::grin::
Without further ado.. here are the pictures.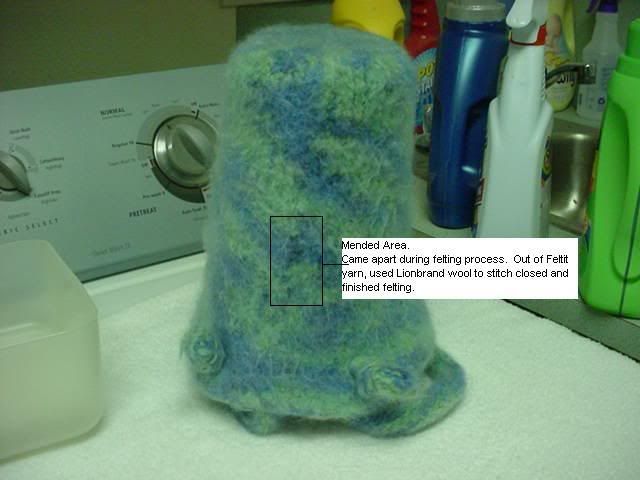 Mended area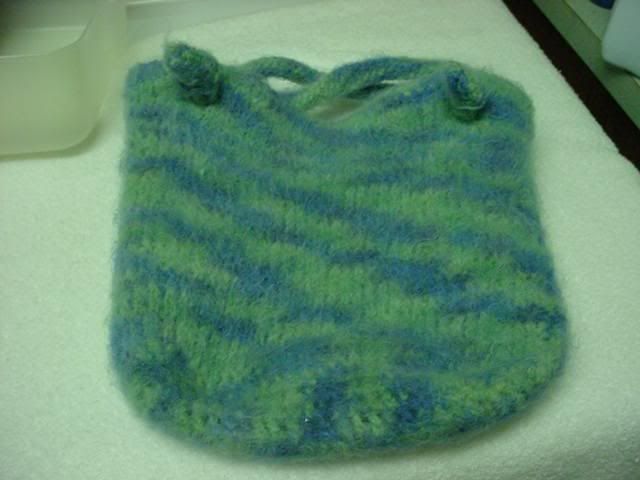 Postfelting


Prefelting

I can't give out the pattern, it's based very heavily on the Felted Tunisian tote class taught by Kim Guzman. You can visit
her group at Ravelry
or one of her websites,
CrochetKim
or
Wips'NChains
. Perhaps she might agree to assist someone, but I cannot share it, so please don't ask me.